ORLANDO, Fla. (FNC) – The Florida National News honored Florida State Representative Daisy Morales as its 2022 State Legislator of the year, citing three bipartisan bills she sponsored during the 2022 Legislative Session that were signed into law benefiting Floridians with disabilities.  Morales served as a Freshman legislator in the Florida House of Representatives from 2020 to 2022.
Read FNN Full Article:
Florida National News (FNN) has named State Representative Daisy Morales (D-Orlando) Florida National News State Legislator of the Year for her unwavering commitment to the disability community in Florida and nationwide.
There are 120 members of the Florida House of Representatives, and 40 members of the Florida Senate which make up the Florida State Legislature. In November 2022, Republicans increased majority from 78-42 to 85-35 with control over the Florida House. As the minority party, Democratic legislators have an uphill battle in getting legislation passed through committees, on the House floor and signed into law by a Republican governor.
This year, the Florida National News highlights a House Democratic freshman state legislator with a proven track record of getting sponsored legislation passed and signed into law who has advanced the rights, dignity, equal opportunities, and choices for Floridians with intellectual and developmental disabilities during the 2022 Legislative Session.
2022 State Legislator of the Year
There are many ways to measure a lawmaker's success. FNN News kept it simple: the Legislator of the Year is one who accomplishes both parts of their job: pass laws (in other words, draft bills that pass both Chambers of the Legislature and get signed into law by the governor) and balance the state budget. Given how difficult it is for a Democrat lawmaker to get bills passed and signed into law, the more sponsored bill signed into law that are under their belt, the better.
During the 2022 Legislative Session, Representative Morales sponsored bipartisan legislation that was signed into law by Governor Ron DeSantis that had significant impact for disabled homeowners (HB 13), disabled veterans (HB 45), and the Down Syndrome community (HB 213).
In 2020, Representative Morales was elected to the Florida House of Representatives and served on the Education & Employment Committee, Post-Secondary Education & Lifelong Learning Subcommittee, Agriculture & Natural Resources Appropriations Subcommittee, Congressional Redistricting Subcommittee, and the Finance & Facilities Subcommittee. She also served on the Select Subcommittee for the Seminole Gaming Compact during her two-year term. During that time, the freshman state lawmaker made history in the Florida House by sponsoring and co-sponsoring over 100 bipartisan bills that were signed into law–more than any other freshman state representative during the 2020-2022 term.
Here's a breakdown of Morales' three sponsored bills in detail and the bills' beneficiaries.
1. Disabled Veterans
Educational Opportunities for Disabled Veterans (HB 45) 
Representative Morales sponsored House Bill 45, Educational Opportunities for Disabled Veterans, legislation which provides disabled veterans receiving certain federal educational assistance more benefits. They are eligible to receive a waiver for tuition and fees at certain institutions; the legislation provides calculation for the waiver amount; requires the amount awarded by the state to be contingent on application of specified federal benefits; requires institutions to submit an annual report to the Board of Governors and State Board of Education; and requires boards to adopt regulations and rules.
Florida lawmakers passed HB 45 earlier this year. The law provides an educational benefit to disabled veterans, allowing those who qualify as residents to attend state universities or career centers, and if they're not qualified for the 100% eligibility tier federally, remaining tuition fees can be waived.
This law was so pivotal, it's on a path to becoming a national model.
Democratic State Rep. Daisy Morales met virtually with Louisiana Republican State Rep. Beau Beaullieu (above right) about introducing legislation on educational opportunities for disabled veterans in the Pelican State.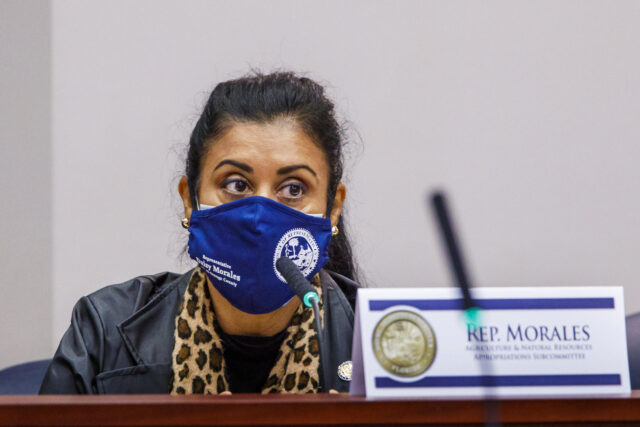 Morales hopes Florida could become a national model on veteran education.
"It's great to work as partners to help disabled veterans who have sacrificed so much for our country with educational opportunities to eliminate challenges they face when they have given so much for our country and allow them to support their families," Morales said when the bill was signed into law. "My office will work closely with other State Legislators looking to pass legislation for educational tuition assistance."
2. Disabled Homeowners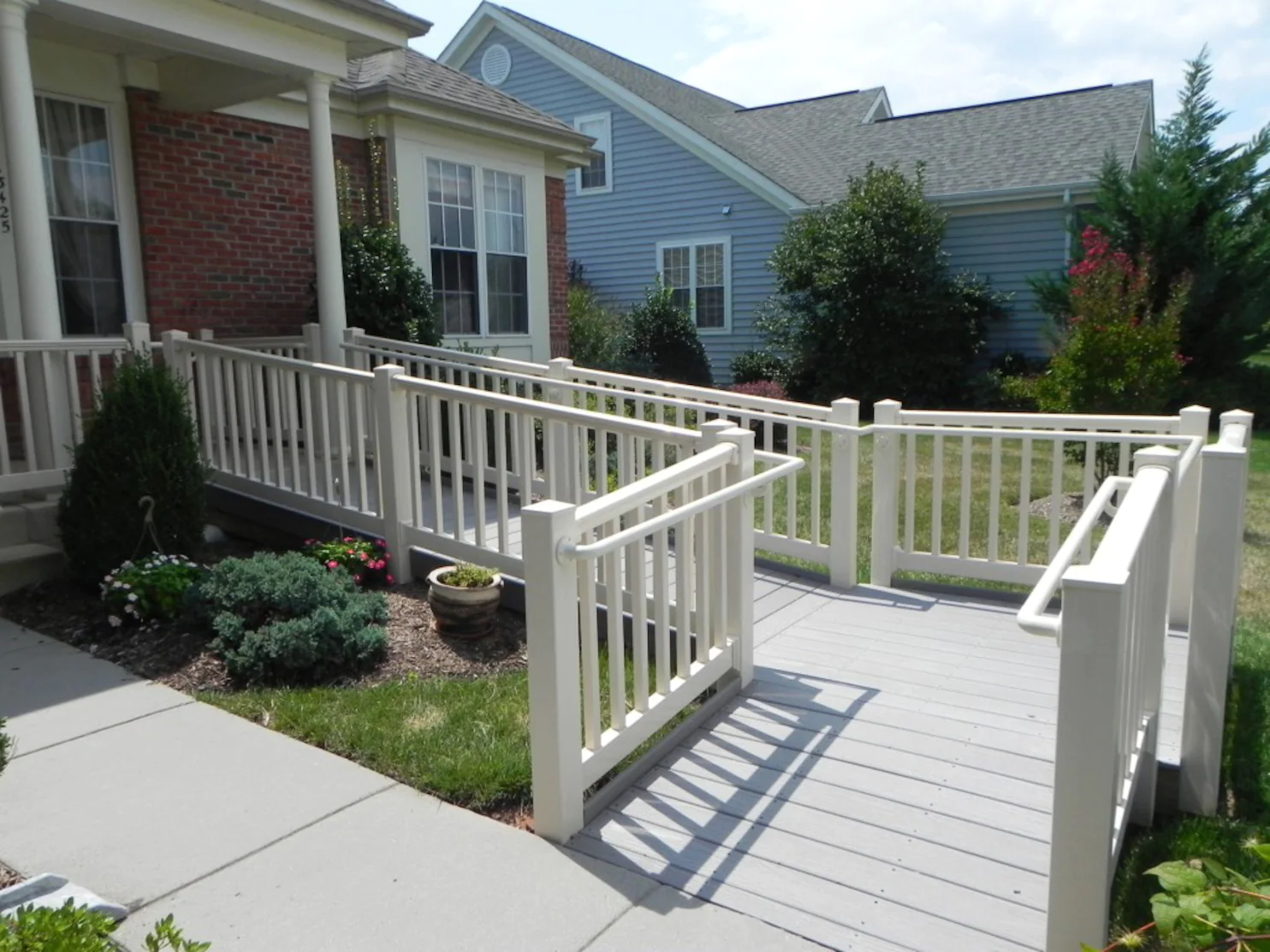 In July of 2021, Rep. Morales and State Representative Michael Gottlieb (D-Broward) filed HB 13 – Property Tax Exemptions For Widows, Widowers, Blind Persons, or Persons Totally and Permanently Disabled, a 2022 bill increasing the homestead exemption for the widowed and disabled.
HB 13 proposes a 10x property tax exemption increase for residents who are widows, widowers, blind persons, or persons totally and permanently disabled from $500 to $5,000. The exemption would apply to tax years beginning on or after January 2023.
HB 13 was eventually amended into HB 7071, the largest tax relief bill in Florida's history, offering $1.2 billion in tax relief to Floridians in the form of several tax holidays in addition to the 10x tax exemption increase for disabled homeowners.
3. Down Syndrome Community
In December of 2021, Rep. Morales drafted HB 213 – Specialty License Plates, proposing the sale of Down Syndrome specialty license plates, and breaking down where the proceeds would go:
Fifty percent would be used to build and maintain HOLLAND, an affordable housing project for independent living for persons with Down Syndrome and other intellectual disabilities.
Fifteen percent would be dedicated to World Changer scholarships provided by Our City Beautiful, a non-profit organization, for Florida residents 18 years of age or older with Down Syndrome who wish to further their education at Florida postsecondary educational institutions.
Thirty-five percent would be used for grants to other nonprofit organizations within this state to support housing, educational scholarships, and employment assistance programs for persons with Down Syndrome and other intellectual disabilities.
The Senate companion bill, CS/CS/SB 364, which included Rep. Morales' bill as well as bills for several other specialty license plates, was signed into law.
Leadership and Commitment to Advocacy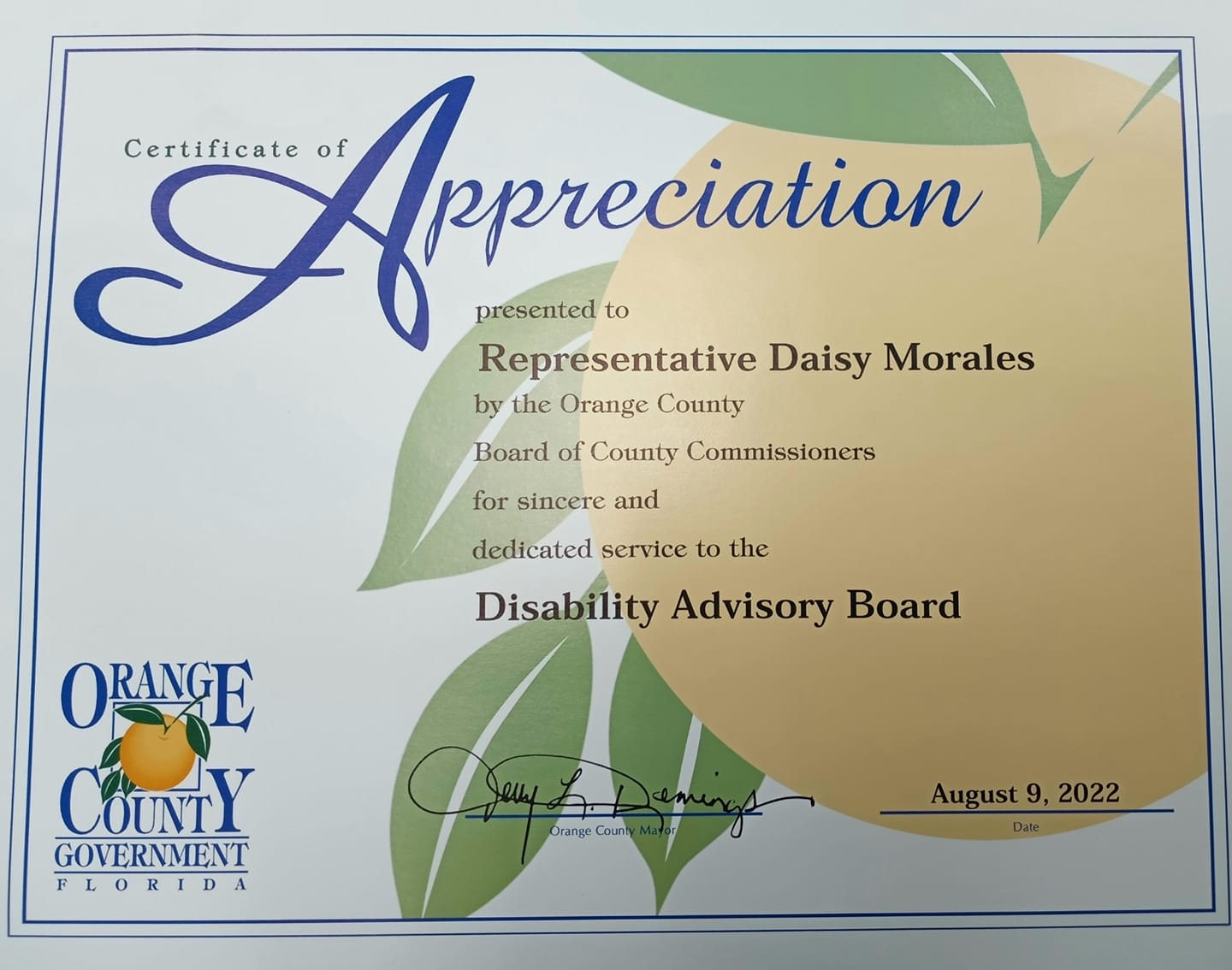 As a former vice chair of the Orange County Disability Advisory Board and longtime caretaker for her adult sister with Down Syndrome, Rep. Morales used her real life experiences to author and support legislation benefitting Floridians with disabilities once she got to Tallahassee. In addition to the three key disability-related bills she sponsored, she also co-sponsored HB 15 – Children with Developmental Delays, HB 173 – Care of Student with Epilepsy or Seizure Disorders, HB 235 – Restraint of Students with Disabilities in Public Schools, and HB 475 – Alzheimer's Disease and Related Forms of Dementia Education and Public Awareness.
Morales also brought that commitment to District 48.
With April being Autism Awareness Month, Morales teamed up with District 2 Orlando City Commissioner Tony Ortiz to host an Autism Awareness Day event at the Engelwood Neighborhood Center, located on South Semoran Blvd. The event featured vendors who serve the Autism community: attorneys, health care companies, small business owners, and even the arts community, all coming together to raise awareness of the services available in Central Florida for residents with autistic family members.
Rep. Morales proved herself a common sense champion over the past two years with a passion for helping one of Florida's most vulnerable communities. The disabled community is the biggest winner of Rep. Morales' legislative agenda during her time in the Florida House of Representatives.
That's why Florida National News is proud to name Daisy Morales State Legislator of the Year for 2022.
"I'm honored to be recognized by Florida National News for this," Morales said. "I also appreciate this media outlet for consistently reporting on the work my office was doing throughout my term. I fight to ensure the disability community is heard, because they need a voice in Tallahassee. As the sibling and caretaker of someone with Down Syndrome, I understand what the disability community needs and wanted to use the authority entrusted to me by the voters to give them what they need."